Hydrazzo® and Hydrazzo® Colors

Hoover over color to see pool color
Hydrazzo® and Hydrazzo® Colors

Click on the color to see pool color
Some of the images on this page were reproduced with permission from National Pool and Tile including watercolors and images with product names.

A silky smooth texture, combined with exposed aggregates' proven durability, are two prime features of this state-of-the-art pool finish.
With unique color selections and a natural variegated appearance, Aquavations Hydrazzo complements all poolscape designs. This polished pool surface creates a finish that is naturally resistant to spot etching, topical stains, permanent scale, and algae adhesion.
Imagine that…timeless beauty and easy maintenance.
Time-Proven Natural Ingredients
The most beautiful pools in the world are surfaced with the hand-polished magic of Aquavations Hydrazzo. It's the smoothest, richest, and most luxurious surface available, formulated from time-proven technology and the earth's finest raw materials. Aquavations Hydrazzo combines naturally beautiful coarse graded crystalline and colored marble, along with white Portland cement and a host of other performance-enhancing ingredients to create the ultimate pool coating.
ess…Without Roughness!
The secret to the Aquavations Hydrazzo finish is the final step: polishing the surface to a brilliant luster and thereby unlocking the marble's natural beauty and its extraordinary strength. The color is breathtaking, achieving a soothing, color-intensifying effect. Aquavations Hydrazzo is the "smooth sensation" in exposed aggregate pool finishes, friendly to fingers, toes, and swimsuits.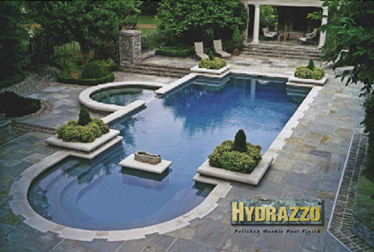 Many images and text were reproduced and/or modified with permission from National Pool and Tile, their partner companies, and/or subsidiaries. Thank you NPT, from all of us at All American Pool and Spas.
There is no guarantee that colors viewed on this website will accurately depict products or the result of the use of those products on the All American Pools and Spas website. Though we make every effort possible to ensure that colors appear in a manner that you will experience, there is no way to ensure that monitors, televisions, etc. display images in the same manner.
The shades of manufactured goods and finishes also may vary within a given color. Though it is our aim to give you the precise color desired, the manufacturing process places limitations upon the accuracy between batches. Always check the actual product before installation but be aware that the effect of the product upon the water will be undetermined until the product's use.
PlasterScapes™ is a trademark of NPT, SCP Distributors LLC, Superior Pool Products LLC, Alliance Trading, Inc, or any of their subsidiaries. In no way is All American Pool and Spas associated with the trademark. While All American Pool and Spas maintains, plasters, and replasters, pools with PlasterScapes™, All American Pool and Spas is a separate entity, contracting its installation.