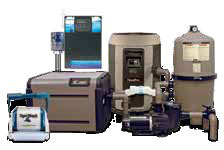 Efficiency - Performance - Innovation
Whether you want to extend your swimming season or swim year-round, Hayward gives you comfort with efficiency. Hayward® Pool Products have been helping pool owners reinvent their pool experience for more than 40 years with innovation, energy-efficiency and reliability. Their Energy Solutions line provides the latest in pool pumps, filters, heaters, and more. If its not a Hayward pool, its not an experience.  
Superior Performance - Superior Energy Efficiency - Superior Value
Tristar® Pumps are just one of the options we, at All American Pool & Spa, use. Through Hayward's years of experience and expertise, there is no better choice than a Hayward pump.
The Tristar® Pump offers many features that set it apart. The TriStar® Pump's advanced hydraulic design optimizes the three essential pump elements to deliver superior flow, impressive energy efficiency, and value. The heavy-duty pump and motor run cooler for years of dependability.
The first to feature a Tri-Lock cam and ramp strainer cover that closes with less than a quarter turn, TriStar also sports a super-sized, smooth, no-rib basket with extra leaf-holding capacity that's a snap to clean. With a variety of bases, TriStar seamlessly retrofits to existing filtration systems.
The technology incorporated into TriStar creates a new benchmark in residential pool pumps, and its higher flow rates can allow for stepping down in pump horsepower. Overall, TriStar features the most energy-efficient hydraulics while offering you peak performance.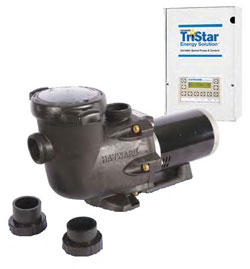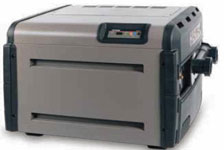 Right for so many reasons - Perfect for so many applications
Hayward Universal H-Series Heater: Energy-efficient and universal fit for added convenience. Nowadays, energy efficiency is always on our minds. With Hayward's energy-efficiency lines, you can have peace of mind that your pool will be safe for the environment and save you money in the process.
Hayward is always looking for ways to make pool and spa ownership as simple and effortless as possible. The latest example of this is the new Universal H-Series pool and spa heater. Combining advanced technology with universal-fit flexibility, it's a smart choice for virtually any new installation or existing system upgrade – delivering state-of-the-industry performance, outstanding energy efficiency, extremely low NOx emission levels, and Hayward's legendary durability and reliability.
High Performance - Operational Convenience
The Hayward SwimClear series is more than an option for your pool. It's the only option. Hayward found a way to filter out all unwanted materials while ensuring your pool's long life with purity in mind. No other filters compare to Hayward's line, offering you high-tech features and unparalleled filtration.
Hayward SwimClear reaches new horizons in cartridge filter technology. A cluster of four reusable polyester cartridge elements provides heavy-duty, dirt-holding capacity and extra-long filter cycles. SwimClear filter tanks are created from new, stronger reinforced co-polymer for the ultimate strength, durability, and long life – even for the toughest applications and environmental conditions. Discover crystal clear results and reliable maintenance of SwimClear by Hayward.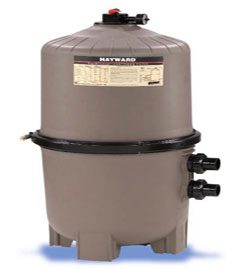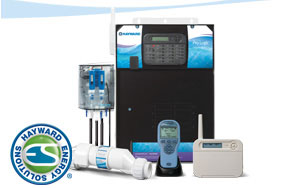 Total Pool Management - All the Control You Need
Wouldn't it be great if, with the simple touch of a button, you could control your pool and spa water temperature, lighting, pH, filtering…and more? Pro Logic®, the energy solution to complete pool automation, is a scalable, flexible Total Pool Management control that makes all this reality.
Pro Logic takes the work out of owning a pool and spa. The total pool chemistry continuously senses ORP and pH levels and dispenses a self-renewing supply of fresh, natural chlorine generated from ordinary salt and controls pH delivering the most consistent water quality possible.
It automates cleaning and filtration scheduled to run at off-peak hours for significant energy cost reductions. Its off-peak programming reduces the demand on the power grid and therefore lowers the energy rate. By managing your EcoStar Variable-speed pump, it reduces energy consumption by up to 90 percent. And for the ultimate energy conservation, it uses solar water heat control.
Serving truly user-friendly, energy-efficient, and cost-effective, automation is also compatible with your existing equipment pad. All this provides a totally tranquil getaway in your own backyard. Envision your picture-perfect pool environment. Now envision Pro Logic as the brains behind your enjoyment and forget about mixing and measuring chemicals ever again.   

Text and images on this page were reproduced from Hayward materials and the Hayward website to ensure accuracy. Though All American Pool & Spa is not directly associated with Hayward, All American Pool & Spa is an experienced installer of their products. While All American Pool & Spa makes every effort to provide you with most accurate representation of products and materials, All American Pool & Spa is subject to the manufacturer's provisions and website limitations.
      There is no guarantee that text or images on this website will accurately depict products or the result of the use of those products on the All American Pools and Spa website. Though we make every effort possible to ensure that text and images reflect the products in a manner that you will experience, there is no way to ensure that the product meets its proposed satisfaction.
      Hayward is a trademark and is not associated with All American Pool & Spa. While All American Pool & Spa is installers of the products associated with the trademark, they are separate entities. In no way is All American Pool & Spa associated with the trademark. While All American Pool & Spa maintains, installs, repairs, and replaces hardware from the manufacturer, All American Pool & Spa is a separate entity, contracting its installation.