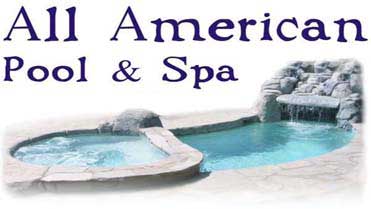 All American Pool and Spas have more than 50 years of experience in the design, repair, plastering, replastering, and remodeling of inground swimming pools and spas. Whether you are looking for a pool remodel, upgrade, or a completely new custom inground pool, we have the experience and expertise to build you any pool you can imagine. Please take a look at our photo gallery to see examples of our past work. We build and remodel pools for residential and commercial customers. There is no job too small or too large that we cannot perform. It is our mission to design and build your dream pool and make it a reality. While ensuring you have the best pool building experience and are thoroughly satisfied with our work. Our office is located in Redlands, CA, and provides service to all
San Bernardino
,
Riverside
, Orange, Los Angeles, and San Diego counties. Feel free to contact us for a quote if you need a pool to remodel. Pool replaster/pebble or a new pool design and construction. Give us a call today at 1-800-TOP-POOL (
1-800-867-7665
).
Custom-built quality pools, spas, and remodels for Southern California. with specialized expertise in remodeling, plastering, and replastering.
All American Pool and Spas has brought back the idea of custom-built. Whether it is a new custom pool, remodeling an aging pool, or only the need for plastering or replastering, All American is prepared to suit your needs.
Since 1958, we've been building pools and spas, but our specialties include a wide variety of services. Our focus is on new pool construction, plastering, replastering, remodeling, and refinishing. We have expertise in building fountains, barbeques, fire pits, ponds, waterfalls, and various other custom products. We look forward to serving your needs.
James N. Gaunt
Owner of All American Pool and Spas
Remodeling, Plastering, and Replastering Services
All American Pool and Spas offers an endless array of services. Since the custom design is our flagship service, you know you are getting unique solutions to your current dreams. Our custom services offer the perfect fulfillment of both commercial and residential goals. Though it is often the case that commercial projects differ greatly from residential projects, our abilities are nearly unlimited in new pool construction, plastering, replastering, remodeling, refinishing, and repair.
Many businesses and homeowners already have new pools, spas, new plaster, or other services designed or remodeled by All American Pool and Spas that have served them well for many years. Unfortunately, some pools weren't built with the quality necessary to ensure long life. We have found that proper building techniques with the proper equipment and proper plasters ensure a pool reaches its maximum life span and usually longer. Our expertise in the best pumps, filters, heaters, and other equipment further lengthens your pool's lifespan. The top-of-the-line Beadcrete, StoneScapes, QuartzScapes, and other plasters we use, further help to ensure longer life expectancy over typical marcite, while offering better weather protection and preventing other environmental concerns.
For those of you who are seeking remodeling, refinishing, replastering, or other services, our demand for high quality is our fundamental practice. Though all of us have heard horror stories about contractors cutting corners, All American Pool and Spas can guarantee we will give you what we agree upon. We believe in giving you your dream with the greatest of ease, efficiency, accuracy, and in a timely manner. Our many years of experience offer you a safeguard to withstand the test of time.
Contact us to schedule a time for one of our professional consultants. Give us a call today at 1-800-TOP-POOL (1-800-867-7665).