ColorScapes™ and ColorScapes™ Colors

Hoover over color to see pool color
ColorScapes™ and ColorScapes™ Colors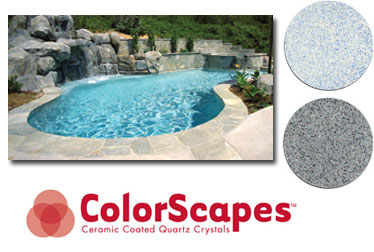 Click on the color to see pool color
Some of the images on this page were reproduced with permission from National Pool and Tile including watercolors and images with product names.
ColorScapes™ High Performance Blend Pool Finishes are created with ColorScapes™ Ceramic Coated Quartz Crystals for a better pool finish with more uniform color that is easier to install and looks great every time.

Many images and text were reproduced and/or modified with permission from National Pool and Tile, their partner companies, and/or subsidiaries. Thank you NPT, from all of us at All American Pool and Spas.
There is no guarantee that colors viewed on this website will accurately depict products or the result of the use of those products on the All American Pools and Spas website. Though we make every effort possible to ensure that colors appear in a manner that you will experience, there is no way to ensure that monitors, televisions, etc. display images in the same manner.
The shades of manufactured goods and finishes also may vary within a given color. Though it is our aim to give you the precise color desired, the manufacturing process places limitations upon the accuracy between batches. Always check the actual product before installation but be aware that the effect of the product upon the water will be undetermined until the product's use.
PlasterScapes™ is a trademark of NPT, SCP Distributors LLC, Superior Pool Products LLC, Alliance Trading, Inc, or any of their subsidiaries. In no way is All American Pool and Spas associated with the trademark. While All American Pool and Spas maintains, plasters, and replasters, pools with PlasterScapes™, All American Pool and Spas is a separate entity, contracting its installation.