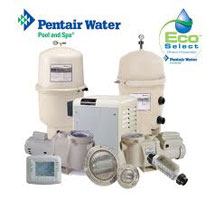 Pentair Water Pool and Spa® is one of the world leaders in pool and spa equipment and accessories …and home to Pentair Pool Products® and Sta-Rite® brands. Their focus has been on energy efficiency while providing you with maximum performance products. Their Eco Select™ line offers exactly this… an eco-friendly alternative that utilizes low operating costs. Join Pentair in making the world a better place, while enjoying all that it has to offer. 40 years with innovation, energy-efficiency and reliability. Their Energy Solutions line provides the latest in pool pumps, filters, heaters, and more. If its not a Hayward pool, its not an experience.  
IntelliFlo® VF High Performance Pump
The intelligent pool pump changed all the rules.
IntelliFlo® VF High-Performance Pump is the world's smartest swimming pool pump. Its onboard computer and intelligent software automatically calculate and program the minimum flow requirements for every pool task – filtering, heating, cleaning, spa jets, water features, and more – to optimize performance and minimize energy use. As functions/tasks change, IntelliFlo self-adjusts to maintain optimal flow rates for further energy savings.
An Eco Select™ Brand Choice: Standard pool pumps can consume as much energy as all other home appliances combined, often costing more than $1,000 per year! IntelliFlo® VF High-Performance Pump pumps can typically cut energy use by up to 90%, generally saving $620 to $1,360 in utility costs annually – more where rates are higher than average.*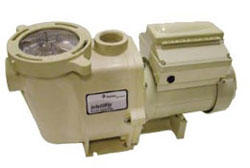 Automatically monitors and adjusts flow rates to optimize performance and minimize energy use – reduces energy consumption by up to 90%
      Built-in diagnostices protect the IntelliFlo pump from the most common causes of premature failure – loss of prime, overheating, freezing and voltage irregularities
      Permanent magnet motor and TEFC (totally enclosed fan cooled) design assure quietest operation of any pool pump
      Super-efficient permanent magnet motors produce far less heat and vibration, resulting in less stress and wear on pump components for longer life
      Compatible with IntelliTouch®, EasyTouch® and SunTouch® pool control systems
      CE Certified, NSF Certified, UL and CSA Listed
      Robust On Board Power Factor Correction
 *Savings based on comparison pump running between 6 and 12 hours per day at the national average of 15 cents/kilowatt hour in a 20,000 gallon pool. Actual savings may vary based on plumbing size and length, pump model, service factor, flow rates, and other hydraulic factors.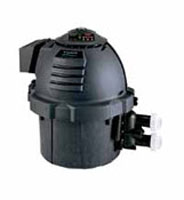 Get that warm-all-over feeling
For indoor or outdoor installations on pools and spas. Features include an LED temperature readout with dual thermostat controls, temperature safety lockout, and a 6-position control panel. PMG burner technology requires no outdoor draft hood. Proven Dura-Glas rust-proof construction with plastic manifold and PVC union connections. Heavy-duty unit with cupro-nickel exchanger stands up to the harshest of applications, like low pH, high flow, or heavy use.
  An Eco Select® Brand Product: Max-E-Therm® high-performance heaters offer best-in-class energy efficiency. Plus, they are certified for low NOx emissions, making them eco-friendly favorites.
      Lightweight – Lightest heater in its class
      Compact Design – Ideal for retro-fit installation
      Easy to Switch – Change gas sources with installation of separate orifice
      Environmentally Friendly – All units are low NOx
      Rustproof Housing – Sleek, matte black enclosure is made of Dura-Glas – an exclusive Sta-Rite material that handles the heat and weathers the elements
      Lower Operating Costs – 84% efficiency rating – rated 1st in its class for highest energy efficiency
      Custom or Retrofit – Direct-connects to Sta-Rite System:3® Mod Media filter or easily fits other systems
Crystal clear water the easy way
Clean & Clear® Plus Filters have a corrosion-resistant injection molded filter tank featuring superior strength and reliability. The cartridge assembly uses four easy-to-clean, non-woven, polyester cartridges. Each filter is supplied with a bulkhead union set for easy installation.
An Eco Select™ Brand: Water flows very efficiently through Clean & Clear® Plus Filters filters allowing the use of smaller pumps or lower pump speeds to minimize energy use. And when consumers rinse cartridges rather than backwash, they can significantly reduce water use, too.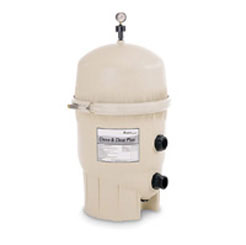 NSF listed
      Superior strength
      Large filter area for increased dirt capacity
      1-1/2 in., 100% drain clean-out port
      Continuous High Flow™ internal air relief*
      Base and plumbing kits now available
      Injection-molded tank
      Balanced hydraulic flow
      Tension Control™ clamp
      100% factory tested
      Black bulkhead unions
      High Flow manual air relief valve
Note: Actual system flow will depend on plumbing size and other system components.
Note: Pentair Pool Products does not recommend flow rates above 150 GPM.
*Integrated Continuous High Flow internal air relief is operational only when there is unobstructed flow in the circulating system.
The truly intelligient pool and spa control system
There is an IntelliTouch system for every application pool, spa, pool and spa combination, and pools with separate spas. With the ability to control from five to forty functions, total backyard automation is achievable. IntelliTouch also offers you a number of individual and multiple wired and wireless control devices for the ultimate in freedom and flexibility–including optional ScreenLogic® interfaces accessible through iPad®, iPhone®, and iPod® touch!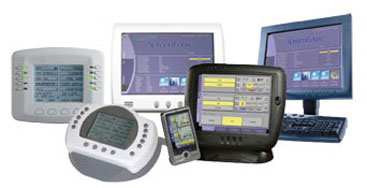 An Eco Select™ Choice: By automating and synchronizing equipment scheduling, IntelliTouch® Systems can optimize energy use and equipment performance, while preventing problems and waste when users rely on their memories or limited time clocks to operate or deactivate equipment.
      IntelliTouch systems offer the flexibility to handle from 5 to 40 circuits that can be used to control any combination of pumps, lights, water features, etc. As an added benefit, user-configurable circuits (Feature Circuits) can also be used to control these combinations of features and more. Feature Circuits even add Macro possibilities, where any number of circuits can be combined on a single button. This gives the pool owner the ability to set up "themes" with custom names all with one press of a single button.
      IntelliTouch users can also dim any high voltage incandescent light such as Pentair Amerlites and SpaBrites up to eight levels using the IntelliTouch Dimmer Module. The dimmer module supports multiple lights from 100 watts up to 1,000 watts and installs in a standard relay location. Any number of dimmers (up to 10 maximum) may be used with a maximum combined load of 4,000W in a single Load Center.
      Each Personality Kit provides complete pool and spa controls that are fully programmable. Every circuit has a countdown timer, ability to do one- time-use programs, salt generation interface for popular salt chlorinators, spectacular colored pool/spa lighting effects, along with solar control capabilities. In addition, there are various options available including light dimming, smart home interface, spa-side remote switches, valve actuators for water flow control, additional indoor wired or wireless user interface control panels, and even telephone remote control.
      ScreenLogic® User Interfaces – Enables IntelliTouch users to control their pool and spa features using wireless color touch screen devices including PDA and Tablets. ScreenLogic systems now have advanced features such as remote monitoring and control over the internet and email alerts for specific events. Other wired interface options are also available to control pool and spa features via a desktop or laptop PC from within the home or on the road.
      Salt Chlorine Feature – Enables IntelliTouch users to control and monitor popular Salt Chlorine Generators including Pentair's IntelliChlor®, Goldline, AutoPilot®, and AutoClear® from the IntelliTouch Indoor Control Panel or MobileTouch Personal Digital wireless control panel. Users do not have to adjust the salt chlorine generator at the Color Touch Screen equipment pad.
     Support for IntelliFlo pumps – IntelliFlo® is the intelligent swimming pool pump that is changing all the rules. Adaptable to any application up to 230 volts and 160 gallons per minute, you simply program IntelliFlo's speed to suit the application. IntelliFlo then dials in the perfect power factor. IntelliFlo constantly monitors water flow and electrical current, making sure that the filtration system is operating at peak efficiency. And that means energy savings never before possible – up to 90% over conventional pumps. Adaptable to any application up to 230 volts and 160 gallons per minute, you simply program IntelliFlo's speed to suit.
      Advanced Color Lighting – Enables users to experience a world of lighting animation when teamed up with Pentair, IntelliBrite®, SAm®, SAL®, and/or FIBERworks®. One of the most dramatic innovations is the Swimming Colors feature in which colors appear to swim through the water, pouring into one another. ¹
      MobileTouch Wireless Remote Accessory – Allows any IntelliTouch® Systems system to have a wireless remote with all capabilities of the indoor control panel. With an average range of 500 feet, pool owners have system control anywhere around the home or yard. Installation is simple and requires no high voltage wiring. Powered by a replaceable rechargeable lithium-ion battery, includes an AC/DC adapter for recharging, water-resistant, wireless user interface control panel with high-resolution 3.75″ monochrome backlit LCD, easy to use control buttons with customizing feature for naming circuits, includes Transceiver module with an antenna.

Text and images on this page were reproduced from Pentair materials and the Pentair website to ensure accuracy. Though All American Pool & Spa is not directly associated with Pentair, All American Pool & Spa is an experienced installer. While All American Pool & Spa makes every effort to provide you with the most accurate representation of products and materials, All American Pool & Spa is subject to the manufacturer's provisions and website limitations.
There is no guarantee that text or images on this website will accurately depict products or the result of using those products on the All American Pools and Spa website. Though we make every effort possible to ensure that text and images reflect the products in a manner that you will experience, there is no way to ensure that the product meets its proposed satisfaction.
Pentair is a trademark and is not associated with All American Pool & Spa. While All American Pool & Spa are installers of the trademark products, they are separate entities. In no way is All American Pool & Spa associated with the trademark. While All American Pool & Spa maintains, installs, repairs, and replaces hardware from the manufacturer, All American Pool & Spa is a separate entity, contracting its installation.